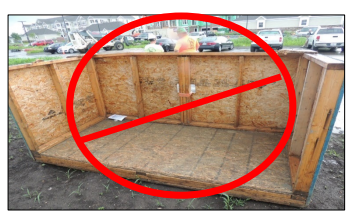 In a recent bulletin, OSHA warns construction workers and other workers using forklifts about potential injuries and deaths caused by "job-made boxes"
What are "job-made boxes"?
Job made boxes are any makeshift attachments created by construction workers or workers in other industries such as boxes, baskets or platforms. They are often made of wood as well as metal and plastic. They look like a little balcony: a platform with 3 walls around it. Workers attach these boxes to forklifts to lift equipment, workers or material to various heights. Workers also use them to step on them when working at elevated levels.