11 construction workers died and 586 were injured on the job in New York City last year according to statistics from the NYC Department of Buildings.  Half of the fatalities occurred in Manhattan, 2 in Brooklyn, 2 in Queens and one in the Bronx. No fatalities were reported in Staten Island.  12 construction workers died yearly during the 4 previous years. When looking at these numbers it is important to keep in mind that the NYC Department of Buildings has very narrow criteria to count construction fatalities in the city and an estimated one third of the construction deaths recorded by OSHA in New York City dot not appear in the DOT stats.

The number of workers injured in construction accidents in New York City last year declined compared to the 3 previous years but was higher than in 2015. 586 construction workers sustained injuries on construction sites in the city last year compared to 761 in 2018, 666 in 2017, 599 in 2016 and 472 in 2015 according to the DOT statistics. Most accidents occurred on Manhattan construction sites followed by Brooklyn, Queens, Bronx and Staten Island. The monthly number of hard hats injured on the job reached a peak in August at 62 and were above 50 during the warm season in May, June, July and September. During all other months of 2019 the number of injuries recorded on NYC construction sites in 2019 was below 50. This is quite an improvement compared to the year before during which injuries almost reached 100 in May and were above 50 every month except for November and December.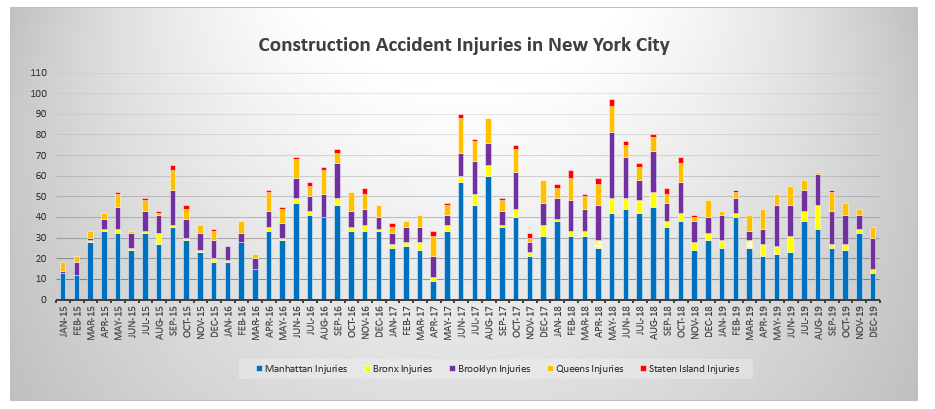 Manhattan Construction accident deaths and injuries are still on a rising trend despite a decline in both deaths and injuries last year.  4 construction workers died in Manhattan during the 3 month period of April, May and June and 2 others in October. July and August had the highest number of injuries with 38 workers injured in July and 34 in August.