14 people injured in an accident between a fire truck and a MTA bus in New York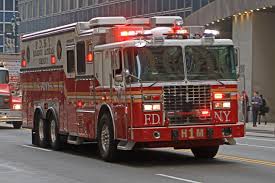 14 people suffered personal injury after a fire truck struck a MTA bus in NYC.  The accident occurred Sunday in Astoria, Queens, NYC at the corner of Ditmars Blvd and 21st Street. A little bit after noon the fire truck  was heading down Ditmars Boulevard to respond to a blaze nearby. Sirens and emergency lights were on.  According to the NY Daily News, the truck passed a red light and  collided with the bus that had the green light and was crossing on 21st St.  Witnesses  said the crash sounded like a bomb.  The impact was so strong that the bus careened into two other parked cars and jumped the curb  before finally stopping two steps away from people sitting at an outdoor cafe. 12 bus passengers were injured and transported to the hospital.  Two firefighters were injured as well and also transported to the hospital.
Later on during the day  another fire truck collided with a car two blocks away.  One person suffered minor injury. The fire truck  also had emergency lights on when the accident happened.
Last year there were 382 fire truck accidents in NYC.