NYC traffics fatalities back to pre-Vision Zero levels while injuries remain low
After reaching a record high in September, NYC auto accident fatalities remained high with 12 pedestrians, 1 cyclist, 4 passengers and 7 drivers killed in auto accidents in October compared to respectively 13 pedestrians, 6 bicyclists, 2 passengers and 14 drivers last September and 9 pedestrians, 3 cyclists, 1 passengers and 5 drivers in October 2019 (click on graphs for full format)
After remaining below 20 for the last 4 years, motor vehicle accident fatalities for the month of October  are back to pre Vision Zero levels with a total of 24 people killed on NYC streets.
While the number of traffic deaths was higher, the number of people injured in car accidents in New York City was at the lowest level for for the 8 years under review in the graph below. A total of 4,235 people sustained injuries in traffic accidents in the city compared to respectively 5,204, 5,498, 5,450, 5,083, 4,851, 4,692 and 4,830 in October 2019, 2018, 2017, 2016, 2015, 2014 and 2013.

One of the most concerning categories of road users are bicyclists who, over the summer and the fall, have seen a record number of accidents, injurie and deaths. 1 cyclist died and 587 were injured in 621 bicycle accidents in New York last October compared to 6 deaths, 693 injuries and 718 accidents in September 2020 and 3 deaths, 369 injuries and 5,397 accidents in October 2019.
It is the first time that the number of bicycle accidents in the city is over 600 during the month of October. Injuries related to these accidents are also at a record high and almost doubled compared to October 2019
The number of bicycle accident deaths is also on the rise. While this month 1 cyclist died, the month before 6 of them lost their lives in traffic accidents and 2 of them died in September bringing the total number of bicyclist deaths to 9 for the last 3 months.  This number is almost double of what it was during the months of August, September and October of previous years.  The increase in bicycle accident deaths and injuries was anticipated by street safety advocates who have been relentlessly asking the de Blasio administration to do more to protect newbie bicyclists who during the covid-19 pandemic opted to switch their MetroCard for a Citi bike membership or a new bike. The mayor refused most proposals, slashed the Vision Zero budget and NYC cyclists are paying the price more than any other road users.



Despite still being on a declining trend, the number of pedestrian deaths have increased to levels never seen during the 3 previous years , not only in October but also in September. 12 pedestrians died in New York traffic accidents last October compared to 13 in September and 9 in October 2019.  The last time the number of pedestrian deaths was above 10 in October was in 2016. All the efforts deployed under the Vision Zero umbrella have vanished during the pandemic.
The high number of pedestrian deaths is particularly preoccupying as pedestrian activity has been much lighter in the city. With almost no tourists, no business visitors and many New Yorkers working remotely, there are not as many pedestrians as usual in the streets. The decrease in pedestrian activity is reflected in the number of pedestrian injuries but not in the number of deaths. During the pandemic, emptier streets have  encouraged recklessness and pedestrians are paying the price with their lives.

Reckless driving is also reflected in the number of motorists deaths and injuries. After reaching a record number of 14 in September, motorists deaths went down to 7 in October. Since the lock down in April, 65 motorists died in car accidents, many of them were reckless drivers. Last year during the same period, 48 drivers died in crashes.

While motorist deaths have been increasing because of reckless driving, motorist injuries have been lower than during the previous years and remained well below the trend line as activity remained subdued in the city.
Passenger injuries are also much lower than usual for the same reason while  deaths have been popping to unprecedented highs. 4 passengers died in crashes last October compared to respectively 1,0, 1, 0, 2, 1, 1 and 0 in October 2019, 2018, 2017, 2016, 2015, 2014 an 2013. During the last 5 months a record number of 18 passengers died in car accidents in New York.  Many of these deaths can be explained by the decline of traffic in the streets that has resulted in an increase in speeding and other reckless driving behaviors.
209 motorcycle accidents were recorded in October 2020 compared to 242 in October 2019. Again the decline in traffic in the city might have been a factor in this decline.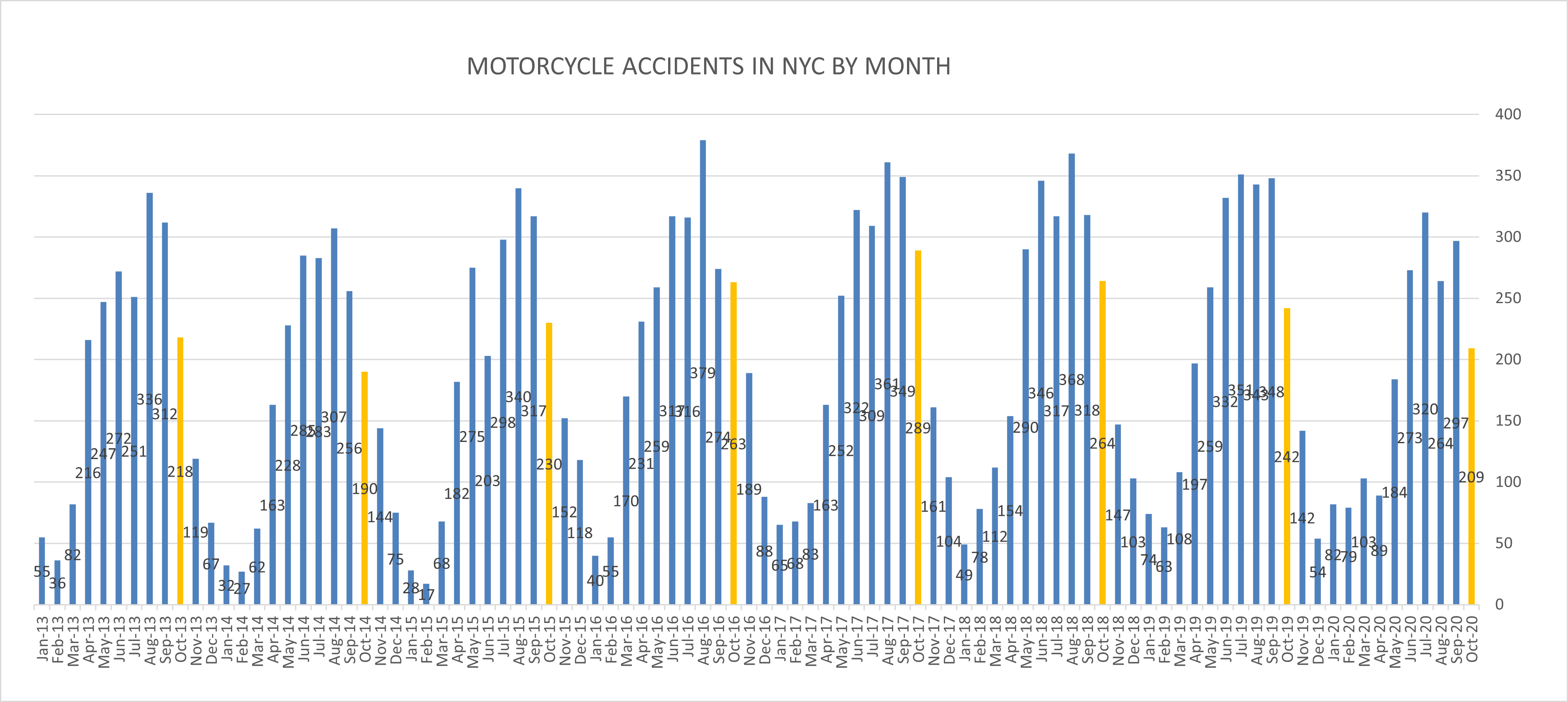 Bus accidents as well were at their lowest during the last few months as activity in the city plummeted. There were 272 bus accidents reported by the NYPD last October compared to 211 in September and 666 in October 2019. Another factor that might have lead to a decrease in the number of bus accidents reported by the NYPD is the new NYPD policy to not report accidents that do not result in injuries.  Since April 6 2020, New York City Police officers stopped responding to motor vehicle accidents where there were no reported injuries at the site of the accident and as a result no reports are filled.

The same explanations apply to truck accidents which numbers are also much lower since April 2020. The decrease in activity and the new NYPD accident policy are the main factors behind this decline. Last October, 679 truck accidents were reported by the NYPD.