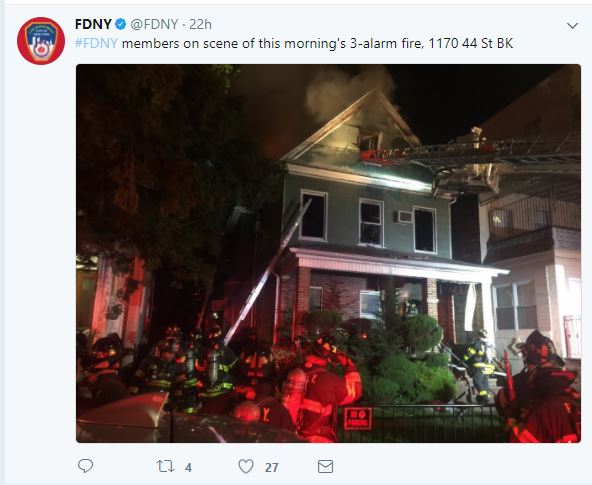 A couple died and their 17 year old daughter was injured in a home fire in Brooklyn, NYC. 61 year old Howard Gluck and 59 year old Evelyn Gluck as well as their 17 year old daughter were sleeping in their two-story home located on 44th Street between Fort Hamilton Parkway and 12th Avenue  in Borough Park, when a fire broke out on the first floor and spread to the second floor around 3:45 am yesterday morning. The FDNY told the media that the fire had probably been going for a while until someone noticed it and called 911. By the time the firefighters arrived, the fire had already engulfed the stairwells.  The couple was found unconscious in a back bedroom on the second floor of the house. They were rushed to the hospital but it was too late and they both passed away. Their daughter was found on the roof of the porch and rescued by the firefighters. She suffered injury and was also transported to the hospital to be treated. She is now in stable condition. The daughter survived because she was able to climb out to a first floor landing before being rescued by the firefighters.
The Glucks had been living in their house for nearly 40 years. They were the first Jewish family to move into the neighborhood and beloved members of a tight knit community. Everybody was in shock yesterday in the neighborhood. Maureen Weiner, who had been living in the house next to them for almost 40 years as well was devastated by the news. She said they were the nicest people.
138 firefighters were called to the rescue to keep the blaze under control and make sure it didn't spread to neighboring houses. 3 firefighters also suffered minor injury in the exercise of their duty. According to the fire marshals the fire was accidental and caused by "careless cooking/grill".  There were no smoke detectors installed in the house.