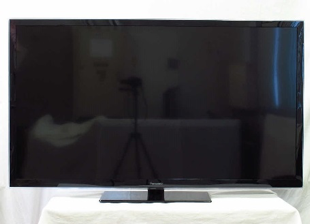 A potentially defective tabletop swivel stand sold with a 55-inch flat screen TV  was recently recalled by Panasonic. The Panasonic 55-inch, LED/LCD flat screen televisions with a tabletop swivel stand is a model that was sold to schools, government buildings and hotels from July 2012 through March 2014 .  The mounting screws that connect the stand to the TV can become loose and the TV can unexpectedly fall off the stand. This pose a risk of severe injury or even deaths to children.
If you see one these TVs on a swivel stand at your child's school, at work or in a hotel please inquire if it was recalled and repaired. If it wasn't please make sure that the  TV is detached from the stand and placed in a safe location before calling Panasonic for a free repair kit.
Panasonic indicates that so far nobody was injured.  755 models have been sold in the US and 130 in Canada. The TV is black with Panasonic printed in the front and the swivel stand is in a glossy black color and is 50 inches long. The model number for the television is TH055LRU50. It can be found on a tag on the back of the television.