Since 2011, 52 construction workers fell to their death in New York City. In its recently published First Quarter Report, the Center for Construction Research and Training (CPWR) is highlighting how the surge in work permits over the last few years is correlated to the high number of fatal falls especially in Manhattan.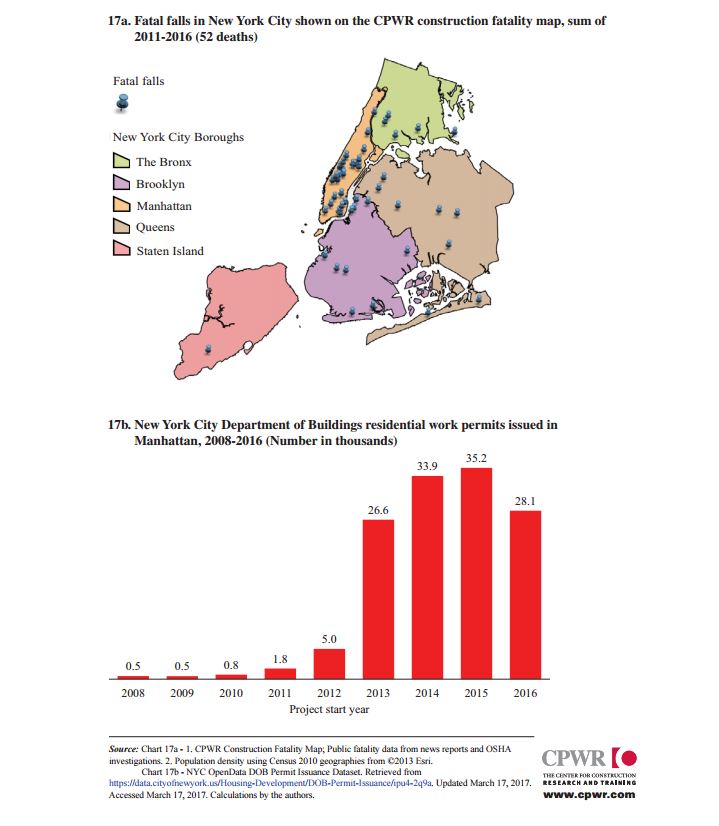 New York City is not the only location affected by a rise in fall fatalities. All over the U.S. as the economy picked up, more construction workers lost their lives on the job. According to recent statistics, 985 construction workers died in 2015. Among them 367 fell to their death.
Ahead of  the 4th Annual National Stand-Down to prevent falls in the construction industry, the CPWR decided to focus its 2017 first quarter report solely on fatal and non fatal falls in the construction industry. The report illustrates how economic ups and downs since the beginning of 2000 affected employment in the construction industry.  It points out the higher volatility in employment for Hispanic workers As of last year Hispanic workers were representing 30% of the construction workers population while in 2003 when the economy was slower they were representing 2.1%. The number of fatalities in construction sites is also highly correlated to the pace of the economy with the number of fall fatalities usually rising faster during an economic recovery. Again Hispanic workers are the most at risk of dying in a fall on a construction site.