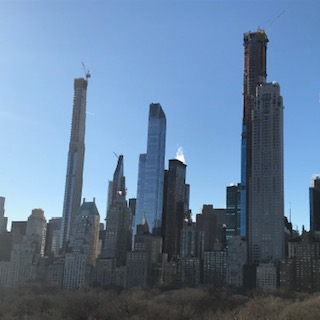 Last week a giant concrete slab fell from the 26th floor of a skyscraper construction site and crashed into the roof of a sixth story building next to it, destroying the studio apartment of 34 year old Steven Jones. Jones was taking a shower at the time of the accident. If he would have been in his kitchen instead he would be dead. Instead miraculously he only  suffered minor injuries. While he was in the shower, Jones heard what he thought was an explosion and walked out of his bathroom to discover a huge hole in his ceiling and thick dust all over. Jones tried to get out of his apartment but the debris was blocking the entrance as well as the fire escape. Firefighters came to the rescue. They were able to clean the debris and get him out of his apartment safely while the rest of the building was evacuated. The slab of concrete fell after the the 26th floor of the skyscraper under construction at 1059 Third Avenue collapsed.  The Department of Buildings issued a full stop work order for the site. According to their records, a similar accident previously occurred a month earlier and the DOB had already issued a partial stop work order between floors 26th and 30th after debris fell and broke the glass roof of a nearby townhouse. The stop order was lifted after an inspection determined that the violation had been corrected. Apparently the problem was still there.
Construction elevator dangling 30 stories on top of sidewalk
On Monday another freaky accident occurred at a super skyscraper construction site located on 57th Street near Sixth Avenue. An exterior elevator came loose on the 58th Street side of the building and began smashing against the building sending glass and other debris onto the street below. The police closed the entire area for hours. Tenants were evacuated from the top floors of a nearby building.  Customers were stuck in restaurants for hours until the heavy elevator that was dangling from the scaffolding 3o stories above the street was removed. Again the worst was avoided and nobody was injured as the cold kept many New Yorkers inside and very few pedestrians were in the street when the accident occurred around 8:00 pm.