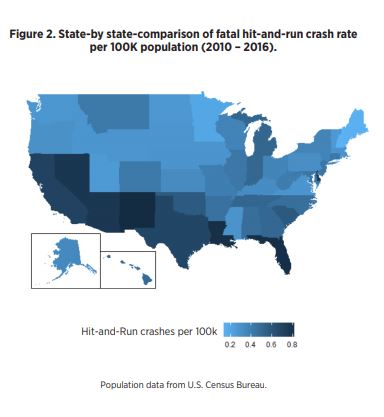 2,049 people died in 1,980 fatal hit and run crashes in 2016 in the US according to a study recently released by the AAA Foundation for Traffic Safety. This is the highest number of fatal hit and run crashes ever recorded in the US. Among the 2,049 people who died in these accidents, 1,229 of them were pedestrians, 169 were cyclists, 380 of them were drivers and 229 were passengers. Since 2009 hit and run crashes increased by an average annual rate of 7.2% per year.
New Mexico, Louisiana and Florida have the highest rate of fatal hit and run crashes per 100,000 people while New Hampshire, Maine and Minnesota have the lowest rate.
Almost 60% of the victims of fatal hit and run are pedestrians with elderly over 80 year old and children under 6 being 50% more likely to be a victim of such accidents. Gender is also a factor. 70% of pedestrians dying in a hit and run accidents are male.