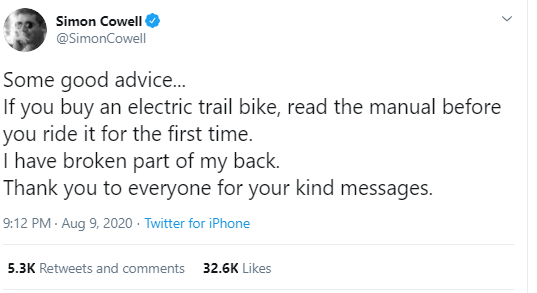 A few days ago, Simon Cowell broke his back in a self inflicted e-bike accident. He broke his back in several places and had to undergo a 6-hour long surgery.  "If you buy an electric trail bike, read the manual before you ride it for the first time," he tweeted on Sunday night.  Electrical bicycles are becoming more and more popular but how safe are they?  In New York, e-bike and scooters were legalized last March as the coronavirus pandemic hit the city and people were reluctant to use public transportation.
Less expensive than a car and allowing to travel longer distance than a bike, electrical bicycles have become an attractive alternative to public transportation especially during the pandemic. While e-biking is quite a new thing for New Yorkers, it has been a popular mode of transportation in Switzerland for more than 15 years. In 2013, Doctors at the University Department of Emergency Medicine in Bern, the capital of Switzerland published a detailed study on e-bike injuries based on patients admitted at the ER between April 2012 and September 2013. They found that most patients were male with a mean age of 47.5 year old and that most injuries were caused by self inflicted accident. Head and neck injuries were the most common. Among the patients studied, 9 were treated as outpatients, 9 had to be hospitalized, 5 had to be kept in Intensive care unit and 6 had to undergo surgery.
While data about e-bike injury in New York are still limited, a recent study authored by several New York surgeons found that in case of an accident, e-bike users were more likely to suffer internal injuries and more likely to be hospitalized than regular bicycle users. E-bikes were found to be less dangerous than scooters whose users have a higher risk of concussion in case of an accident. The study also found that e-bike injuries were more than three times more likely to involve a pedestrian than regular bicycle injuries or scooter injuries. Another finding was that the risk of injury was particularly high for older people.