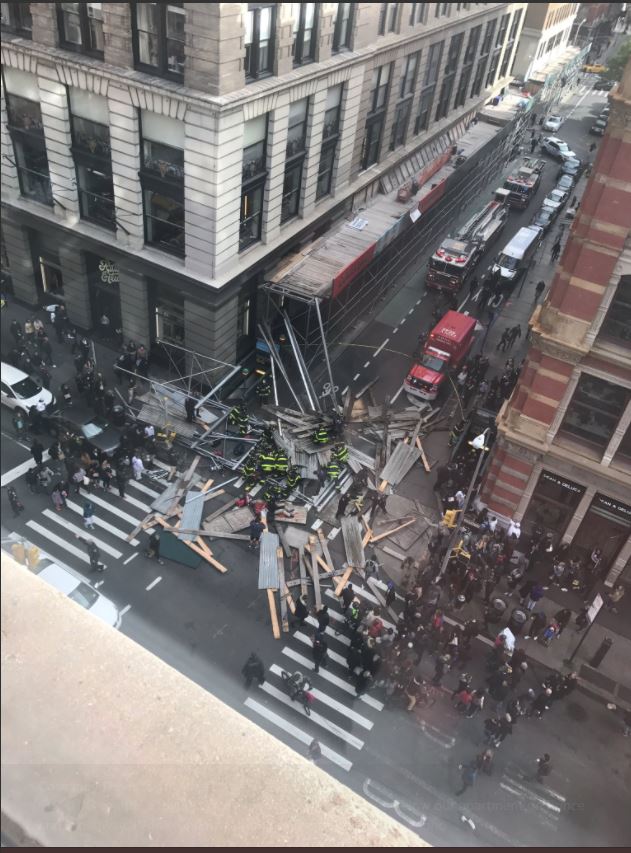 6 people were injured in a scaffold accident in New York on Sunday. The accident occurred at the corner of Prince and Broadway in Soho. The area is a popular tourist shopping and dining destination. It is usually packed with pedestrians all day long.
Soho is also a very windy area of Manhattan. Sunday high gusts of wind that were shooting from the North down Broadway took down a large scaffold located on the sidewalk just at the exit of the subway station. According to the FDNY a large plywood piece on the scaffold acted as a sail and took down the entire structure.
A couple of pedestrians got buried under the pile of metal and wood while other passersby who witnessed the scene ran to the rescue.  People started to frantically move the metal and wood pieces to pull people out of the debris.  Shortly after the firefighters and ambulances were also on the scene of the accident. A woman who suffered critical head injury as well as five other people injured by the debris were rushed to the hospital.