The Bureau of Labor Statistics recently published the initial release of the Census of Fatal Occupational Injuries.Here is a summary of their findings:
The 2011 preliminary total of 4,609 fatal work injuries represents a slight decrease from the final count of 4,690 fatal work injuries reported for 2010
The preliminary rate of fatal work injuries in 2011 was 3.5 fatal work injuries per 100,000 full-time equivalent workers, down from the 2010 final rate of 3.6.
More fatal work injuries resulted from transportation incidents than from any other event.
Roadway incidents alone accounted for nearly one out of every four fatal work injuries in 2011.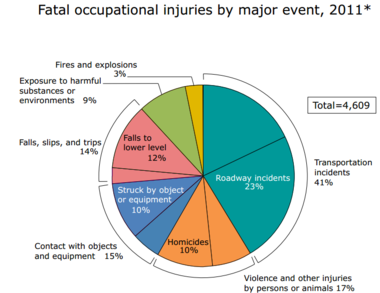 In 2011, falls to a lower level accounted for 541 fatal work injuries. Of those cases
where height of fall was known, 57 percent involved falls of 20 feet or less.
Roadway incidents accounted for the greatest number of work-related transportation fatalities. Of these, 512 deaths resulted from a roadway collision with another vehicle. Pedestrian vehicular incidents constituted the second greatest number transportation-related fatal injuries Continue reading →