A total of 11,176 people were injured in NYC crashes during the first quarter of 2023 according to monthly statistics from the NYPD including 809 cyclists, 2,163 pedestrians, 3,310 passengers and 4,894 motorists. This is compared to 10,501, 8,984, 12,997, 12,920, 12,608, 11,936, 10,805, and 11,676 during Q1 of 2022, 2021, 2020, 2019, 2018, 2017, 2016, 2015, 2014 and 2013 respectively. The number of people injured in traffic accidents during Q1 of each year shows how injuries first declined after Vision Zero started in 2014 and 2015, compared to 2013, and then jumped again in 2016. The number gradually increased to pass 12,000 in 2017 and reach a record high of 12,997 in 2019 due to the increase in distracted driving accidents caused by cellphones and other electronic devices. Crash injuries dropped again in Q1 of 2020 and 2021 due to the decline in activity in the city caused by the pandemic, and gradually increased again in Q1 of 2022 and 2023 as the city gradually became more active again.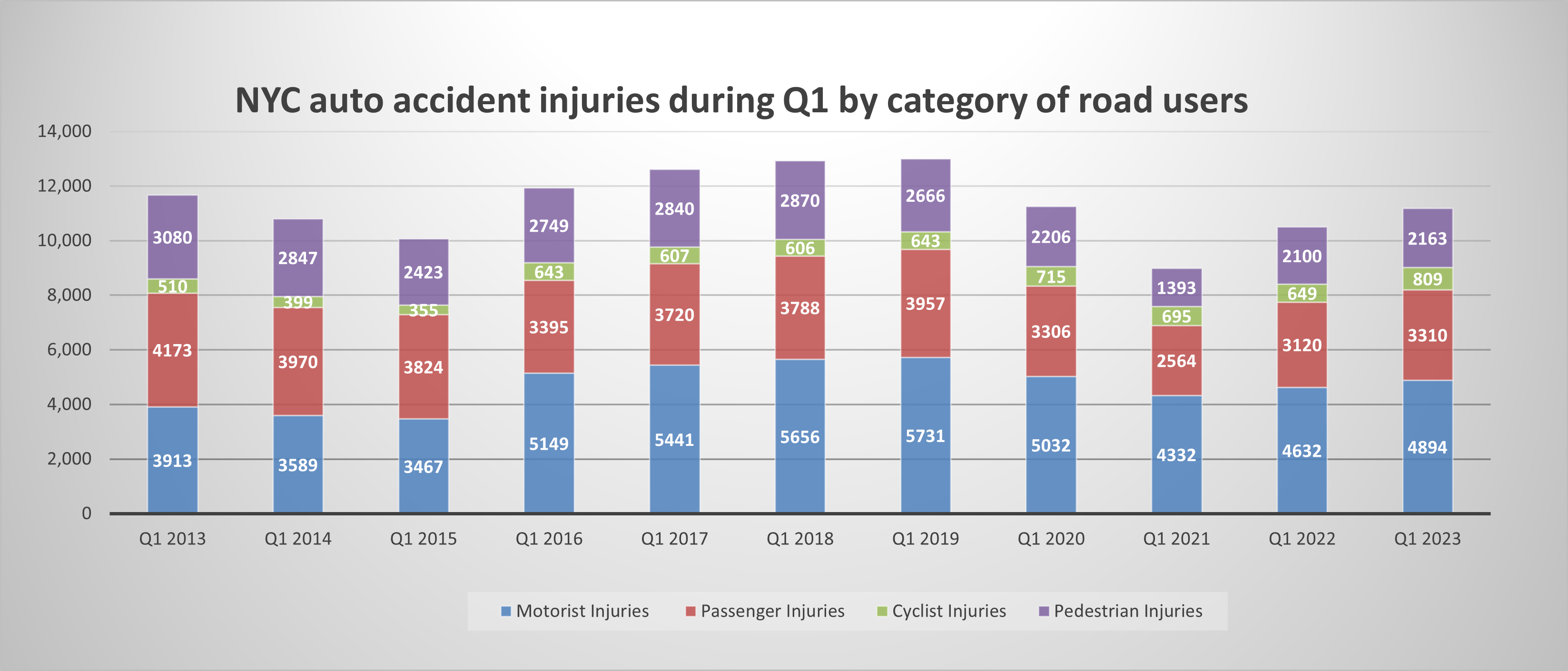 Since Vision Zero started in 2014, the number of people dying in car accidents during the first quarter of the year has never gone back to 69, the number of crash fatalities reached during Q1 2013. However, after Vision Zero started, traffic fatalities reached a record high at 58 during the first quarter of last year and remained high during the first quarter of this year with 47 fatalities.
While the number of passenger fatalities dropped significantly from 17 to 6, the number of bicyclist fatalities reached a record high during the first three months of the year. The warm winter, the increased popularity of e-bikes, as well as the more intense truck traffic generated by internet shoppers, are among the factors that contributed to this explosion of fatalities among cyclists.