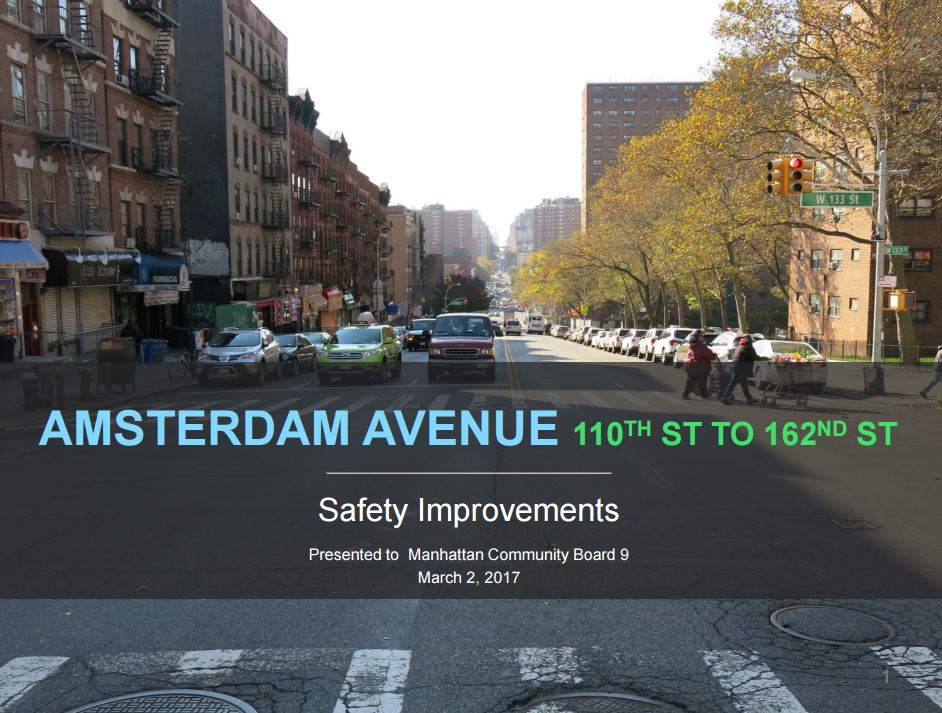 People riding bikes in New York City decrease their risk of being seriously injured in a bike accident by 75% when they are using a protected bike lane.  According to a 2014 DOT study, protected bike lanes have led to a decrease of 22% of pedestrian injuries and to a minor decrease of  bicycle accident injuries despite a dramatic increase in bicycle traffic in the city.  Recently a new DOT proposal to extend the Amsterdam Avenue protected bike lane with a painted bike lane above 110 street seems somewhat weak.
The Amsterdam Avenue segment that runs from 110th street to 162nd street is a busy two way 4 travel lane corridor with no bike lanes.  Columbia University, City College of New York, several senior centers as well as various commercial and residential buildings are located on this segment of Amsterdam Avenue.
Speeding, unsafe intersections and the absence of bike lanes are making the avenue unsafe for the community. Between 2010 and 2016, 4 pedestrians died on this segment of Amsterdam Avenue. Between 2010 and 2014 8 bicyclists and 28 pedestrians were severely injured.