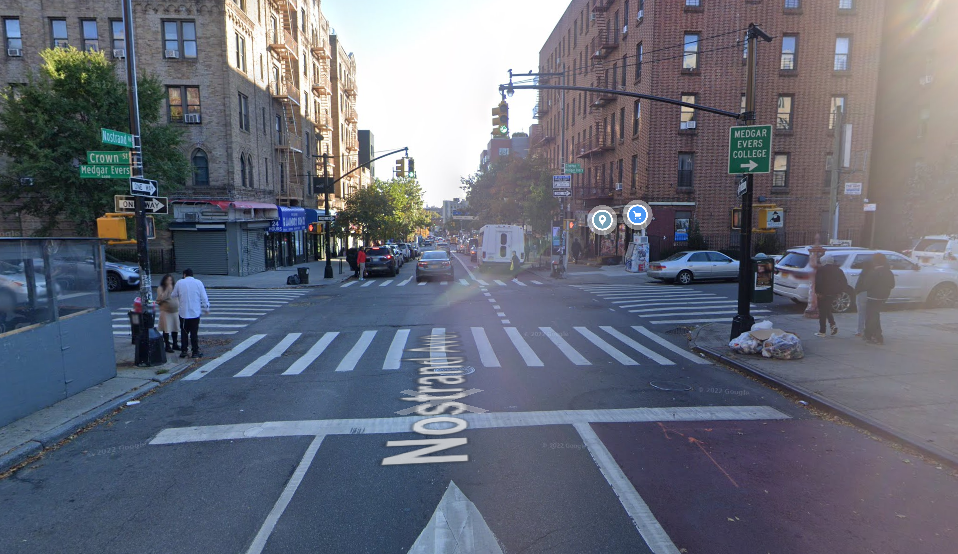 Two people suffered serious personal injuries in a multi-vehicle car accident in New York City last Monday night. The accident occurred around 6:30 pm in Crown Heights, Brooklyn at the intersection of Crown Street and Nostrand Avenue.
An exclusive and jarring surveillance video from a nearby building was obtained by CBS2. The video shows a white car running a red light at high speed and T-boning an SUV that had the green light and was driving through the intersection. The impact was so intense that the SUV went airborne and crashed into another car further down the street, while the white car jumped the curb and nearly hit pedestrians on the sidewalk.
Only a few seconds later, an NYPD patrol SUV arrived in the same direction as the white car. An officer got out and ran towards the cars. CBS2 asked the police if the cruiser was chasing the white car. The police initially declined to answer but later said that the cruiser was not involved in an active vehicle pursuit at the time of the accident. In a busy city like New York, there is a policy for when a police car is allowed or not allowed to engage in a vehicle pursuit. This policy states that police should "terminate a vehicle pursuit if the risk to the public or fellow officers outweighs the risk posed if the suspect gets away." However, too often police officers do not respect this policy and engage in reckless police pursuits that result in dangerous accidents, seriously injuring or killing civilians.