Despite an increase in bicycle accident fatalities and in motorist injuries the total number of NYC motor vehicle accidents and the total number of resulting injuries and deaths decreased during the third trimester of 2019 compared to the third trimester of 2018. The total number of accidents declined from 57,642 during the third trimester of 2018 to 52,567 during the third trimester of 2019. This is the lowest number of crashes since the same period of 2014.


While a high number of fatal bicycle accidents painted a very negative picture of New York street safety, not all numbers are bad. For example pedestrians fatalities were at their lowest during the period of July, August and September 2019. Motorists fatalities were lower than the two previous years during this same period and passengers fatalities were stable.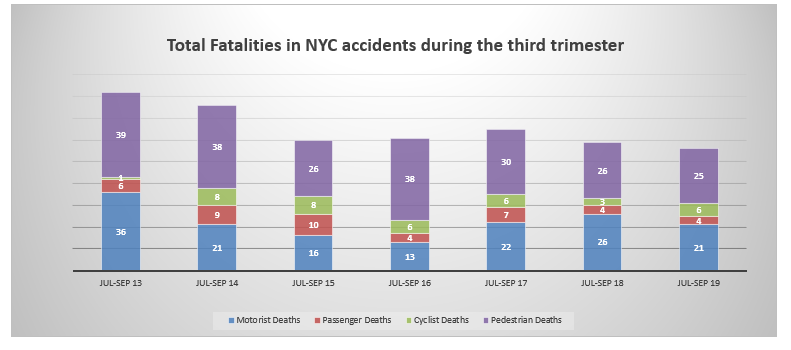 The total number of auto accident related injuries were slightly lower than the previous year. A total of 167,083 people were injured in traffic accidents during over the summer 2019 compared to respectively 16,300, 15,860, 16,048, 13,998, 13,472, and 14,900 during the same 3 months of 2018, 2017, 2016, 2015, 2014 and 2013. Motorists injuries account for almost half of the injuries and continue to increase. While efforts to protect pedestrians has led to a substantial decrease in pedestrian injuries and deaths, distracted driving remains the number one cause of  motor vehicle accidents in New York City and needs to be addressed.