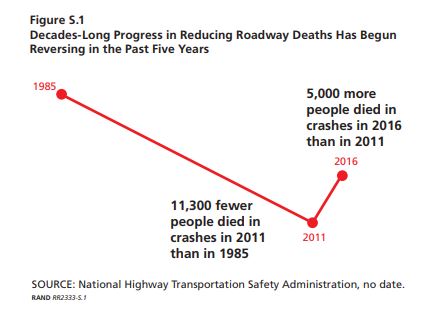 Vision Zero is a road safety program that was first started in Sweden and then successfully applied in many other European countries. When Bill de Blasio became the mayor of New York, he also implemented a Vision Zero strategy for New York City which over the last four years led to a significant reduction of traffic deaths, especially pedestrian fatalities.
While traffic deaths have been decreasing in New York City, they have been increasing at the national level.  In the steps of Sweden and New York, the National Safety Council recently created the "Road to Zero Coalition"(RTZ) and just released  "The Road to Zero, A Vision for Achieving Zero Roadway Deaths by 2050" a comprehensive report on how to apply Vision Zero Strategies at the national level and end roadway deaths in the US by 2050.
Roadway fatalities which had been declining in the US between 1985 and 2011 started to increase again between 2011 and 2016. In 2016, 5,000 more people died in roadway accidents than in 2011. Young people aged 15 to 24, men and rural road users are the most at risk of dying in a car crash.