84 people including 49 pedestrians, 6 cyclists, 3 vehicle passengers and 26 vehicle drivers died in traffic accidents in New York City during the first semester. This is the lowest number of traffic deaths ever recorded in the city during the first six months of the year. Last year 96 people died in traffic accidents during the same period. It was the  first time that the number of traffic deaths was below 100 for the first six months of the year.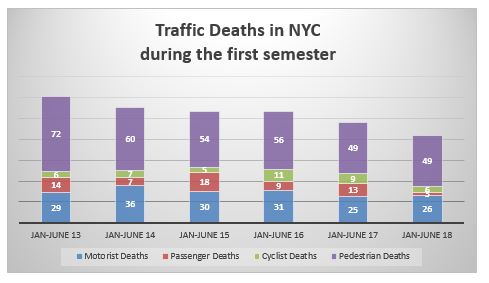 While less and less people are dying in auto accidents in the city, more and more are getting injured. 28,544 people suffered injury in a crash during the first semester of 2018 compared to 27,923 during the same period of the previous year and respectively 27,540, 23,530, 24,508 and 26,119 during the first semester of 2016, 2015, 2014 and 2013.
As part of the Vision Zero initiative, the speed limit in the city went down to 25 mph in 2014. This speed limit decrease may have been a factor in the reduction of traffic deaths and in the increase of injuries. Accidents at lower speed may prevent road users from dying, instead they are getting injured.