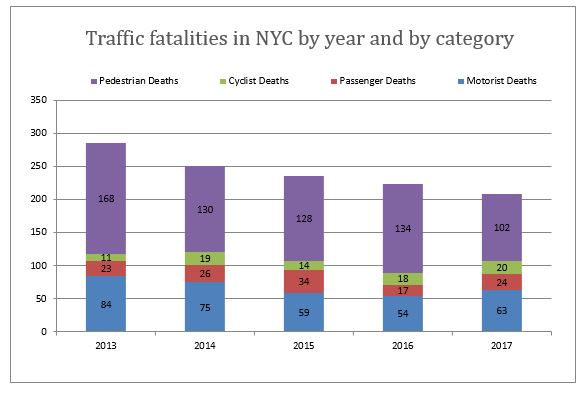 In 2017, 102 pedestrians, 20 cyclists, 24 passengers and 63 drivers died in auto accidents in New York City compared to respectively 134, 18, 17 and 54 in 2016.
According to the traffic collision data released monthly by the NYPD, a total of 209 people died in traffic accidents in 2017 compared to a total of 223 in 2016 and 286 in 2013 before Vision Zero was launched. This is the lowest number of motor vehicle accident fatalities ever recorded since the city started to create statistics in 1910.
The decline in traffic fatalities is mostly due to the decline in pedestrian deaths that went down by 39% from 168 in 2013 before Vision Zero to 102 in 2017. During that same time fatal bicycle accidents almost doubled going from 11 to 20. Passenger deaths stayed almost stable from 23 to 24 and motorists fatalities declined by 25%.