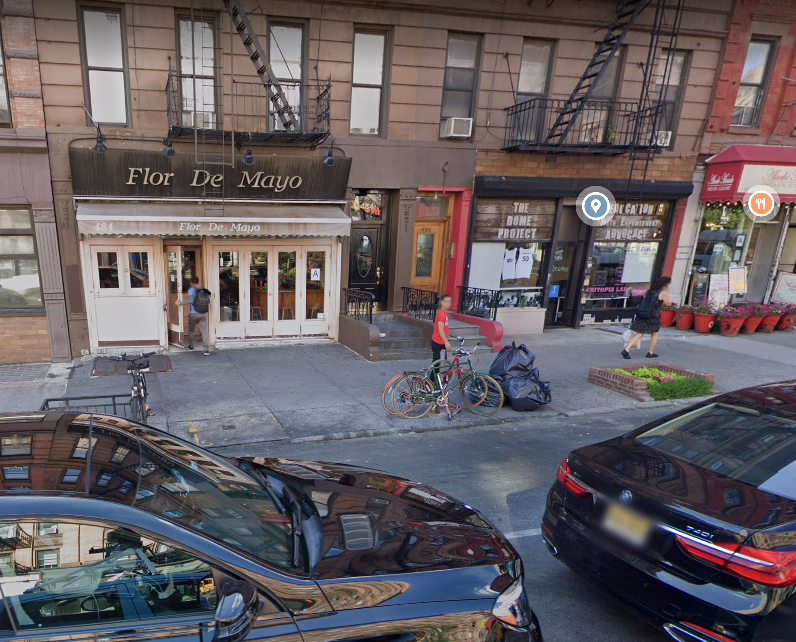 Cyclists travelling at a high rate of  speed in bike lanes crossing outdoor dining areas  in New York City are putting restaurant staff and clients at danger and a restaurant owner who tried to put speed bumps on the bike lane had the DOT remove them shortly after.
After an e-bike rider almost hit a child in front of his restaurant, Jose Chu, the owner of Flor de Mayo bought two plastic speed bumps and installed them in front of his restaurant.  Flor de Mayo is located in the Upper West Side on Amsterdam Avenue between 83rd and 84th Streets. Cyclists and e-bikes are constantly zipping through the popular bike lane with e-bikes often going 20 miles an hour near the restaurant sheds. While Shu  says speedy cyclists "are an accident waiting to happen'",  Upper West Side cyclists were pretty quick at denouncing the speed bumps on social media and calling them "an accident waiting to happen". A  cyclist tweeted a pic of the new bumps and mentioned that  her bike severely jolted as she rode over them. Bike advocates followed up on the tweet asking officials to remove them and the DOT got quickly involved. 24h later, a  NYC Department of Transportation employee showed up at the restaurant front door and asked Chu to remove the speed bumps. The employee mentioned that the speed bumps were illegal and caused a hazard to cyclists. He told Chu that restaurants had to use signs asking cyclists to slow down.
When interviewed by the West Side Rag, Chu said he already has signs but cyclists simply ignored them. That is why he tried a new tactic. He said he tried to go over the speed bumps with a bike and it was fine  as long as he was going slowly.