According to the most recent NYPD collision statistics, a total of 254 people died in motor vehicle accidents in New York City last year. Among them were 108 pedestrians, 15 cyclists, 33 vehicle passengers and 98 motor vehicle drivers.  Before Vision Zero started in  2014, 286 people died in auto accidents in 2013. Then the number of deaths went down to 250 in 2014, 235 in 2015, 223 in 2016. It reached its lowest in 2018 with 199 traffic accident fatalities and then gradually increased to 214 deaths in 2019 and 239 in 2020.
While pedestrians remain the category of road users recording the highest number of deaths of all road users with 108 of them dying last year, the numbers that caused the total traffic fatalities in New York City to be so high last year were the record number of motorists and passengers fatalities. 98 motorists died and 33 passengers were killed in car accidents last year compared to 84 and 23 in 2013 before Vision Zero started. Distracted driving, speeding and recklessness are the causes of most of these fatalities.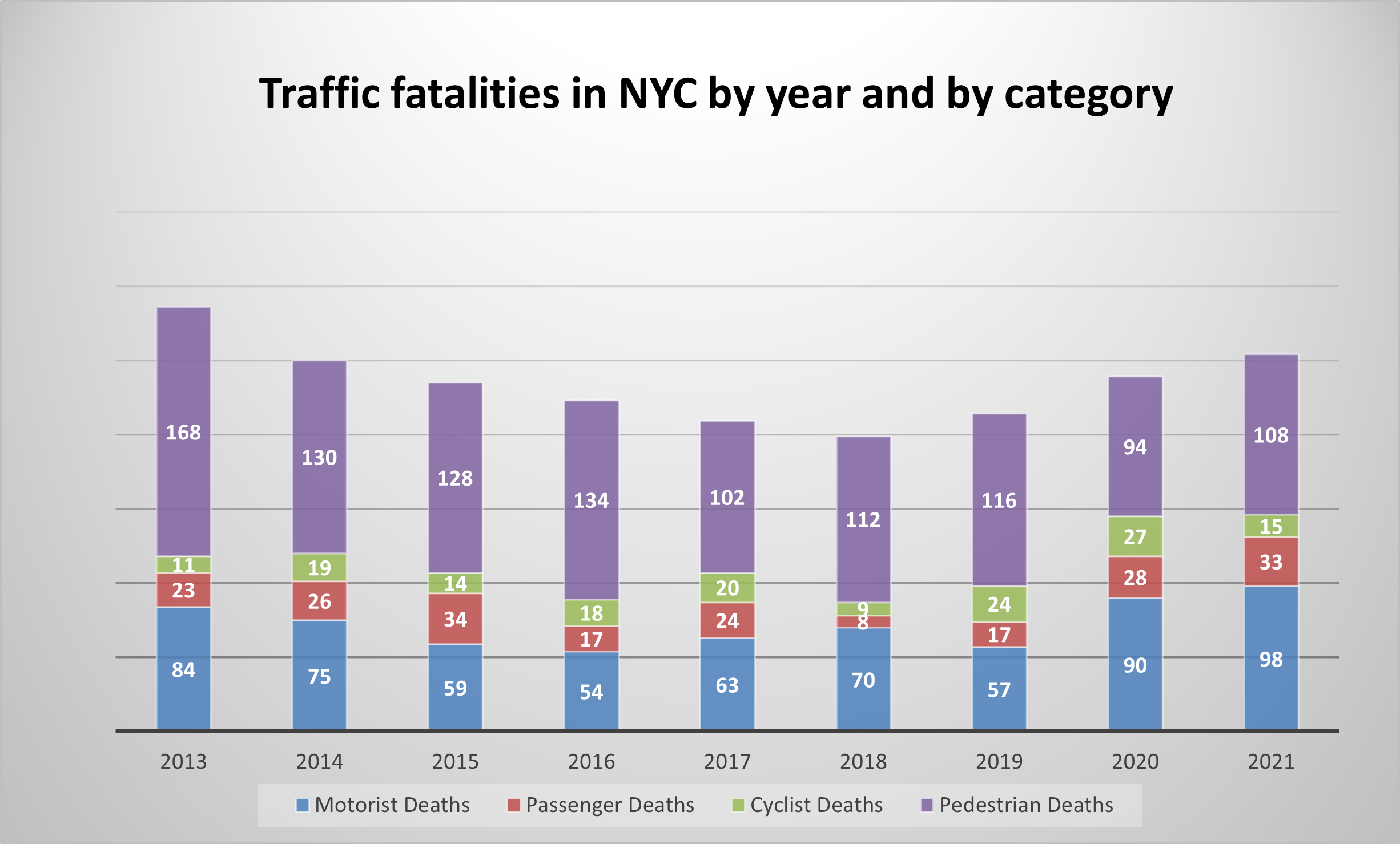 Traffic accidents injuries remain lower than usual but however a little bit higher than last year with a total of 50,617 people injured in car accidents in 2021 compared to respectively 43,601, 60,234, 60,646, 58,990, 58,526, 51,255, 50,886 and 54,818 in 2020, 2019, 2018, 2017, 2016, 2015, 2014 and 2013. A diminution of the day to day activity in the city because of the ongoing Covid19 crisis may be a factor behind these lower than usual numbers.