There were 19,061 motor vehicle accidents in New York City in July 2015 compared to 19,428 the previous month. During the same month in 2014 and 2013 there were respectively 17,361 and 17,548 crashes.  For the last 3 months the number of  accidents was unusually high and stayed above 19,000. So far since the beginning of the year there were 123,697 traffic accidents in NYC compared to respectively 118,195 and 117,022 for the same period of 2014 and 2013.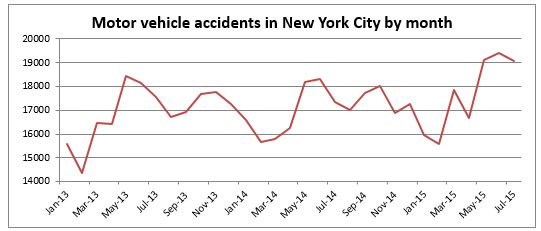 4,776 people suffered personal injury in motor vehicle accidents in NYC in July compared to 4,795 the previous month and respectively 4,591 and 5,077 for July 2014 and July 2013. Even though the number of motor vehicle accidents was very high in the month of July the number of people injured in these accidents was lower in July 2015 than in July 2013 and almost the same as in July 2014.
The number of motorists injured in a vehicle accident in July 2015 was unusually high and above 2,000 for the first time over the last 3 years under review.